Marvel's Midnight Suns it is easily the best of 2022. Yes, I say so. The work of Firaxis Games, after 6 years without touching the concept of XCOMit seems to me pride in form and substance. Even so, throughout 2022 it had a shadow competitor, a sinuous figure that caught my eye and made me think "if it launches before Midnight Suns, it's going to spill blood." Capes Midnight Suns is what we could expect from a son infatuated with his father's figure. They share the same concept of tactical action; the same superheroic genre; and although the latter is clearly inferior, knows how to promote the genre "a la XCOM" as Midnight Suns avoided doing.
And it is that, Capes is a return to the purest and most basic style of XCOM. We forget about the cards or the powerful names of heroes like Iron Man, Doctor Strange or Spider-Man. It's almost like adapting the universe of The Boys, where all the superheroes sound familiar to you, but it's just a sensation. And even so, among so many similarity, it's how he deals with the concept of "superhero teams" that has captivated me. I was able to test it for about 1 hour in Germany, at the offices of Daedalic Entertainmentand I was impressed with how Midnight Suns foregoes the "individuality" in favor of the need to do logical alliances and cared between characters.
Marvel Midnight Suns. Enhanced Ed. – Playstation 5
Tactical and classic action, but always as a team
The Midnight Suns cards shocked a lot of people. It is like that, and you have to be realistic. Although many had a past with XCOM, they were not encouraged to give this game a chance because of the cards. There is nothing wrong with it, for tastes colors, and it is something that benefits this Capes in the most direct comparisons. The German-Australian alliance game sets its eyes on the most classic elements of XCOM: difficulty, challenge and the coordination of characters in combat.
We will always drive a group made up of 4 heroes. This is immovable, but we can choose which ones will accompany us to the next fight. Unlike Midnight Suns, where the strength of each solo hero prevails over the rest, Capes forces us to have a well-balanced team and "communicative". Rescuing the XCOM style, the character's attacks work based on predefined abilities —it remains to be seen how these heroes will evolve and how many abilities we can have—, and a series of movements that only appear in the arsenal depending on the configuration that we have in the group.
I was impressed with how Midnight Suns foregoes "individuality" in favor of the need to make careful and logical alliances between characters.
When facing an offensive, having a poorly configured team previously implies a crushing defeat, and I already tell you that it is difficult to succeed if the "communication" between heroes is disastrous. For example, one of the most basic alliances that helped me during the test was to use Facet (capable of creating crystals and covering his body with them like scales) together with Reborn (a teenager with the ability to teleport) to face a combat. I thought maybe she would teleport enemies next to her, but it's much more dynamic than that. Her trick is that she is a rogue, or assassin, so her attack power is in blows from behind. He can create huge crystal stakes that she will use to stab, thus scoring a crit.
To all this is added a very good implementation of ultimate skills. Without cards of different classes and specialties, a push-pull approach of hits, defenses, and rounds would have bored even the most veteran of the genre. Of course, the Ultimates give a certain pinch of flavor to a menu pretty solid. And it is that, in the purest Overwatch style, each of these devastating attacks is achieved in a different way and not all of them are used to do damage. Facet, being the tank, recharges his Ultimate based on the damage taken, while Mercurial (super speed hero) gets it the more attacks he does. Something contrary to Reborn, who receives a charge boost depending on how many times he moves around the stage. Capes is, above all, varied in how he approaches combat.
Difficult, but…
Even so, if they had bet on the pure and simple pleasure of fighting, I would not have been as happy as when I left the offices thinking about writing this text. Team-ups work on various scales. Not everything is attack and defense. Many alliances They even serve to reposition, giving a lot of dynamism to some combats that, by the logic of the genre, are slow. The same Facet can cover an ally with crystals so they don't take damage with the next hit. Jenis, with the strength of the sun, is able to set the stage on fire, divide it into parts to face the fight and prevent the enemy's next move. Even Reborn herself can teleport an ally away from an opponent's range and thus prevent his death.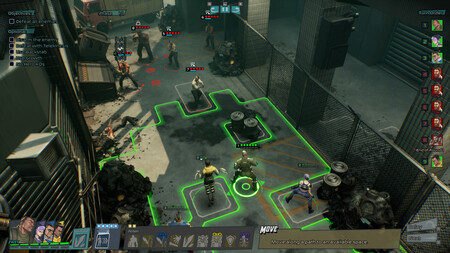 And it is that, my friends, here yes they can die, although its impact is not similar to that of XCOM. There is a lot of difficulty in their confrontations. I have come to see up to 3 waves of enemies, each one more powerful and with the added arduous task of protecting some civilians. Even so, allies can die in combat, although that means nothing more than a gaI over capital and return to the start of the mission. There is no impact on the future of the game. Capes is located halfway between this saga and Midnight Suns. It's a hugely narrative adventure, so it needs each character to have a relevant role. They are not simple soldiers, something that slightly kills the effortbut it does not detract from the set.
The freedom that Marvel does not give you
Of course, as you have already noticed, we are only before the umpteenth work that seeks to scratch the success of Marvel and DC. Both dominate current comics and this Capes feels more like Valiant Comics, although The Boys seems to come in handy. The world of built by Daedalic is not so sinister, harsh, sexually explicit and bestially violent. Follow Marvel's schemes when it comes to grouping a squad of almost clandestine heroes who fight against a criminal organization that executes people with powers. He exudes good vibes, but it's very The Boys.
All heroes remind you of something from "The House of Ideas" or DC, but at all times you know that it is not "official". Valiant Comics did the same, but opted for a lot of personality and even more science fiction. Capes is so The Boys because all of his heroes have standard powers, but that gives them play and they use it to their advantage. Not having one of the big two behind it means that they can take almost any hero, even the least known and most rebellious, and include it with a new name. A weight is lifted off your shoulders. There is no powerful license above that prevents them from going further in this fight for rights. It is a playground that has won me over and from which I expect restrained surprises, although fun. Of course, we will have to wait a bit. Although Capes already has its page on Steam, the game of Spitfire Interactive and Daedalic Entertainment has no release date beyond a mere 2023but it does have a demo now available for download.
In 3D Games | Midnight Suns has made me connect with their superheroes more than Marvel movies and is one of the best of 2022. Analysis
In 3D PC Games | I lowered the difficulty of Hard West 2 and found a fabulous visual novel, with art very inspired by great western comics